APL Show Garden Build Opportunities
We hope that things continue to remain as normal as possible in 2022 and the Show garden opportunities for members and the APL continue.
Immediate Events who host the BBCGWL shows have 2 great opportunities for members in 2022.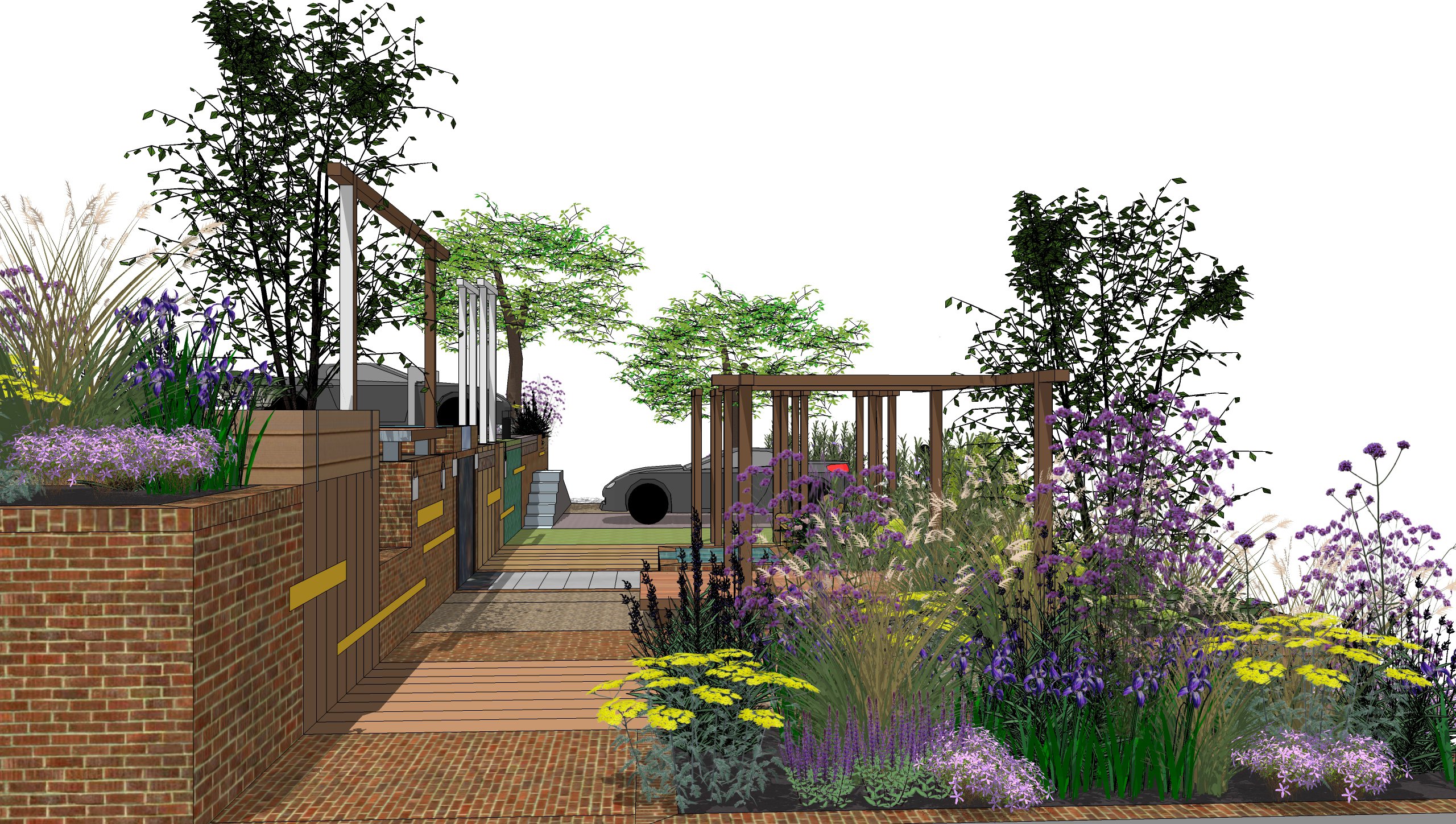 Beaulieu Flower Show.
Over The Garden Gate
The Brief:
In the past we have all walked down streets, lanes and paths and had something catch our eye. You pause (check that no one is looking) and discretely have a look over the garden gate taking in some of the creations, features or even surprises! It is this that has inspired a fantastic new garden collection for 2022 at BBC Gardeners' World Spring Fair. We are looking to build a collection of four small gardens, where we can see your interpretation of Over the Garden Gate.
Competition Brief
Your garden should raise curb appeal and make people stop and look over their garden gate. The garden can be urban or rural and may be attached to a modern or traditional house. However, the garden must be complete, and the garden gate should be part of that theme. The storyline is up to you, it may reflect an actual existing client or someone imaginary in your design.
Size
The garden should cover an area of between 20 and 25m2. The inspirational view should be "Over the Garden Gate", but please note the garden should be viewable from at least two sides.
Sending In your design
You should supply a photo that suggests the type of property your garden design is based on. This will be displayed as an image on the storyboard alongside your garden.
Description
The theme is 'Over the Garden Gate'. The gardens should incorporate features that would make passers-by stop in their tracks due to a creative feature or even a surprise. The space should be well thought out, be original and incorporate at least one area of special horticultural focus (where possible incorporate sustainability and biodiversity). The gardens could be attached to a rural or urban property. They could incorporate planted areas, sculpture, or a fun feature. However, as with all small spaces such as these, detailing is critical. How will the gardens appear? We will provide the footprint for you to create your Garden. You will be provided with surround sleepers in the configuration stated on your application. This will be to a height from the ground of approximately 0.3m. We can fill your garden with compost for you to plant directly in to. Otherwise, there is compost available to you on site for you to fill your own garden.
Awards
Each border will be assessed by an experienced and knowledgeable Garden Assessment Panel awarding either a Platinum, Gold, Silver Merit, Silver or Bronze Award. The assessment criteria will be shared with exhibitors. Who's it for? The competition is open to APL Landscapers who would like to promote themselves to a highly interactive and knowledgeable gardening audience. Show Gardens are a fantastic shop window for your planting and garden design skills, showcasing your business to around 20,000 visitors over three days. The show organisers will contribute a negotiable sum of up to £3,000 towards the cost of your garden.
Apply now!
Applying is quick and easy, please complete the attached application. Should you have any questions or issues regarding the application, please do get in touch. Come and be part of BBC Gardeners' World Spring Fair 2022! Once we have received your application, we will be in touch with you very soon and endeavour to get back to you within 21 days with feedback on your design. The latest we can accept an application is 24th January 2022. We are here to support and help you every step of the way, so just email if you have any questions!
Lucy Tremlett, BBC Gardeners' World Fairs Horticultural Show Manager - lucy.tremlett@immediate.co.uk 
BBC Gardeners World Live Birmingham NEC
APL Avenue
For the sixth year running, the organisers of BBC Gardeners' World Live, River Street Events, are offering a generous £10,000 contribution to each of the five landscapers selected to design and build gardens at the show. In addition, there will be generous sponsorship of materials and supporting benefits including PR, hospitality opportunities and show tickets. Winning a BBC Gardeners' World Live medal provides valuable accreditation to your company, fantastic PR opportunities and a great way to bench mark your build abilities against the high standard of assessing.
Competition Brief
Your clients are refurbishing their private home in the West Midlands and we would like you to design and build a new back garden for their home. You can choose the style of the house so it can be from any period and in any style but must be recognisable as a residential home.
The Client
You should specify the client e.g. is it for a family, a professional couple, a retired husband and wife? The client's story is up to you and you may reflect an actual existing client or someone imaginary in your design.
Size
The garden should cover an area of between 49 and 56m2. Please make sure you specify in your design which side you would like the garden to be viewed from if built, and please note the garden should be viewable from at least two sides.
House Facade
In your application you should supply a photo that suggests the type of property your garden design is based on. It is likely that your garden will have more impact at the show if you can create at least an outline idea of the house's location and façade.
Product Usage
Marshall's products used in your scheme will be provided free of cost by Marshall's, however this is restricted to their domestic range only. There is no requirement to use any particular or different types of product, but you must indicate your choices on your plan. You are also welcome to use products from other providers.
Brief
The theme of 2022 APL Avenue Show Gardens is "Work, Rest or Play in a Sustainable Way". This theme will enable you to explore many areas of inspiration. Gardens could nod towards schemes that provide home office environments, allow your clients to relax or entertain and soak up those beautiful tranquil summer evenings. Or if a young family, provide areas for creativeness, inspiration and education. Along with these common trends, the title dictates that as far as possible the designer must consider the sustainability of the project and the materials used. Today many designers realise they are in a unique position both to notice the changes happening in the world due to greenhouse gas emissions, and to propose and enact creative solutions to this problem. With that in mind we ask that a real and demonstrated effort is made in the monitoring and reduction of the carbon footprint of the garden and thought goes in to the ongoing maintenance. This is a really challenging brief, but one that can help shape the future of today's modern garden. The gardens should be Inspirational, Aspirational and Attainable. Therefore, designers could try and incorporate a space which can be used for entertaining, cooking, dining or play. Up cycling and recycling is encouraged and could become a real focus of the scheme. Whilst the gardens must be open to a minimum of two sides, they should demonstrate how privacy can be obtained by appropriate screening or planting. The garden could represent a single project or indeed be part of a larger scheme. The gardens must have areas of special horticultural focus, Bio Diversity is massively important and seamlessly runs alongside sustainability. Trees, shrubs or a border provide seasonal attention but also wildlife habitat and interest. It is possible that some gardens may wish to use height or installations that can be converted to other uses to maximise limited space. The finished result will be a garden where you can invite your own guests, family or clients for a couple of hours on Press Day, but at the same time have evidence of sustainability, bio diversity and carbon neutrality over a given timescale.
Drawing and Submission Requirements
With your submission please also include the following:
A brief description of the client (no more than 200 words) and a photo indicating the style and period of house.
Black and white plan view of garden
Three dimensional perspectives of the garden showing the views that visitors will see
Planting plan and schedule with a mood board of proposed plants
Construction layout plan with key dimensions annotated, excavations and elevations
Costing (please see below)
Funding statement (please see below) – applicants should indicate how the funding for the garden will be made up, with a maximum spend of £35,000. A £10,000 grant from River Street will be given to each garden excluding any Marshall's products used.
To enter or for more information please contact Phil Tremayne. phil.tremayne@hta.org.uk  or Lucy Tremlett lucy.tremlett@immediate.co.uk  and get your application form.